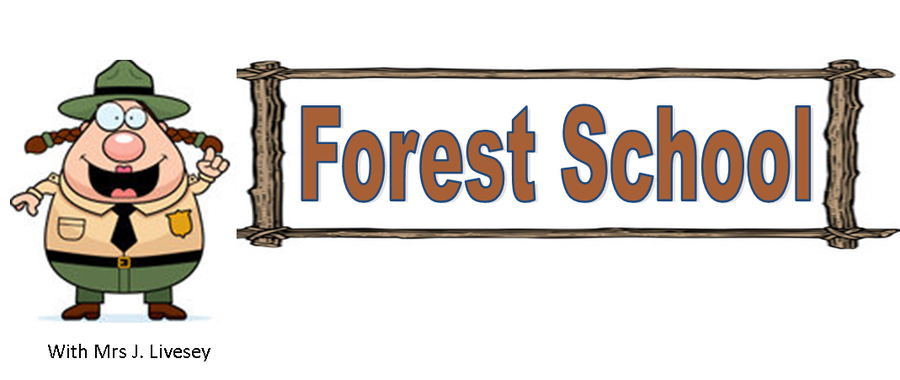 Forest School Fun 15.03.17
'The Scarecrow's Wedding'
This week we read the story of the Scarecrow's wedding and had the opportunity to make our own scarecrows with wooden spoons and natural materials found in the woodland. Look at some of our amazing creations.
Some of the boys enjoyed some pirate role-play with Mrs Smith.creating their own boat from palettes and sticks. Harry Potter made an appearance during today's session too.
We had just enough fun before the rain came.
test123
Mini-beasts
23.05.2016
What a fantastic afternoon we have had today! It has gone so fast!
After listening to the story about mini-beasts the children have been super creative. Making their own bugs, including 'Clockwise' made from dandelion heads and 'Flowerbug' using paint and petals.
Lots of the girls decorated around the fairy doors after Isla had had a visit from Pixie Dust, who left her a lovely note and a gift.
Caroline taught the children how to start a fire with a striker and we toasted marshmallows, putting them between digestives.Yum Yum!
Most of the boys could be found up in the trees, Bobby made a car from pallets and took Mrs Smith and some of the girls to 'Disneyland'.
I just love it!!!
Stone Boy and the Girl
16.05.16
This week we have read the story of Stone Boy and The Girl. The children were given the opportunity to make their own stone boy or girl., we even had a stone alien!
Lots of individual creativity from the girls, fairies were made, a wishing tree, and some forest school woodwork.
Here are some of the children's favourite parts from the day.
Making a wish
Exploring
Pretending to be girl
Making my magic wand
Playing ghosts
catching tadpoles
relaxing in the hammock
painting stones
making and decorating my wishing tree.
Some more from today.
25.4.2016.
The King of Tiny Things
Class 4 were fantastic at making houses for the fairies that had had their houses burnt down by the evil dragon.
Lots of teamwork and independent problem solving.
Some children also got the chance to make their own fairies, caring their faces with a sheath knife.
Here are the things they said they enjoyed ;
Making a talking stick
Making my butterfly house with Mrs Jackson
Standing up sticks and knocking them down.
Making my house for Bella the fairy.
Carving the face on my stick
Playing my game 'The Grim Reaper'
Some of the boys also supported each other to solve problems when their fairy houses weren't going quite as planned.
Time went very fast with this bunch.
Bog Baby
18.4.2016
We read the story of 'Bog Baby' and then had the chance to go and make our own out of materials that we could find.
Look at the fantastic ones we made!!
Ruby's Sleepover
The last session for the first half of Class 4 and the sun really shone! It was a beautiful afternoon.
We read the story of Ruby's camping trip and then went off to build our own sleeping structures to protect us from pirates, grizzly bears and parents!
The children were asked what their favourite part of the last four sessions had been, here are some their answer:
Playing
Making things
Being outside
Being with my friends
Making new friends
The stories
Moving around
Dressing up
Building with the boys
Being ridiculous
Pond dipping
Building dens
Having fun
Enough said!
29th February 2016
The evil dragon has visited forest school, laid an egg and burnt down the village of Knock Knock. It is the children's responsibility to make sure all the other eggs in the forest do not hatch and cause a dragon invasion!
Look at some of the fantastic egg nests that were built as well as Class 4's first fire with toasted marshmallows and digestives.
Lots of exploratory play and great team work.
What a fab afternoon!
Bog Baby
Class 4's first experience at Forest School and didn't they do well?!!
They weather was mixed but didn't dampen our fun.
Lots of construction and team work today, carry large logs in partners and
building insect houses.
The new mud kitchen was popular too, with children making chocolate sponge and
custard and fish and chips-yum yum.
Roll on next week!
Active Day
1.2.2016
What a busy day it has been today! The children have never stopped moving!
We warmed up by playing palm tig and then has a game of ball tig.
Children were given the opportunity to participate in a scavenger hunt, and collect items from a list. Once the items were collected they were asked to make a picture. Some of the results were impressive.
Lots of use of twigs and natural materials to make imaginative items that the children used to role play around
the forest.
Some of our children's reflective words;
I love it!
Wet!
Super dooper
Creative
Soggy fun
Happy
Comfortable
Teamwork
Everyone is looking after me
Playing with friends
25.1.2016
Where Is The Hedgehog?
What a blustery day it was today!
Children hugged the trees to feel the movements they were making from the wind and made flags from fabric and sticks which blew in the wind.
We were very excited to see some signs of spring in the woodland and built barriers around them to protect them from trampling feet.
Lots of habitats were created for our woodland creatures, and Captain Caveman the new resident at Forest School.
Children were asked to tell me one word to say how they had felt that afternoon;
'Exhilarated'
'Content'
'Indestructible'
'Happy'
'At peace with nature'
'Peaceful'
'Creative'
'Amazing'
'Artistic'
'Teamwork'
I agree with everyone of them!
They are truly inspirational!
Leaf Man
16.11.2015
Well it was great to be back in the woodland after the cancellation of last weeks session, due high winds.
Today we read the story 'Leaf Man' and thought of ways that we could be creative with leaves.
Lots of very independent thinking, with children using their own initiative and making choices about what they wanted to do.
Many revisited the learning from the last session and enjoyed playing with the cuddly woodland creatures again, whilst others built shelters and climbed trees or created art work.
There was a chill in the air today! Please remember to wrap your children up well.
Where Is The Hedgehog?
2.11.2015
The second half of class five attended Forest School for the first time and took every opportunity to explore their surroundings.
Today we discussed Autumn and what happens to animals when the cold weather comes. After a woodland creature hunt, each child worked independently or in a team to build a habitat for their animal. Look at some of the fantastic creations they came up with.
A very proud Forest School Leader today!
Well done Class 5!!!
The King Of Tiny Things
28th September 2015
Today was a day where the children just came into their own. I was so proud of everything that they had taken on board from previous sessions and the independence and creativity that they were enjoying. Nothing adult led, just child led and look what a success it was!
The fairies had made a visit over the weekend and set up camp in our woodland The children were really excited about the doors and villages that they had to make.
A first for our forest school, we had the knives out. Thank you to Caroline (my forest school trainee friend, who will be volunteering on a regular basis). She made sure the children were using tools correctly, safely and how to get the best results. They sharpened sticks to make their own fairies, swords or anything else that their imagination could come up with. Just great!
No Forest School next week due to our Harvest Festival, but bring out the fire the week after!!!
Ruby's Sleepover
21st September 2015
What a productive day we had.
Shelters and dens were made to keep us safe following the story of 'Ruby's Sleepover'
The Great Fire of Huddersfield was built to keep us warm, we were just glad it didn't spread through the woodland.
Mushroom and insect identification was carried out using the identification cards and microscopes. We managed to recognise two different kinds of mushrooms.
Autumn crafts and lots of tree climbing too.
Quite an eventful afternoon for a two hour session.
The children are really loving it!!!
Stone Boy and the Girl
14.9.2015
Class 5's first experience of Forest School
Lots of teamwork and creativity today in our session, which was fantastic!
A den that had been built turned into a magical train that took children to 'Popland'. Tickets were made and issued to anyone who wanted a ride.
Stone boys and girls were created utilising natural objects found around us, and lots of bug hunting and inspection was carried out.
Roll on next week.
Pirate Day
Our last forest session for this year, with lots of wildlife watching. Freddie the frog, Sid the slug and a larger version of Norman the newt was found today.
The children took on board all the pirate tasks and had great fun making eye patches, flags and boats to float in the pond.
A few fantastic words from our children;
"You get to play all day, it's fun!"
"I like fishing for frogs and I get to do arts and crafts"
"Climbing trees is the best, I like being in the forest"
"A frog jumped in my eye! I was surprised"
"Super frog!"
6th July 2015
Scaredy Boo has returned to the forest!!!
The children have had a great time using clay to make their own monsters. They then went on to make decorations for the fir tree that we found in our garden.
One of the children also found 'Norman the Newt' who gave us the opportunity to do lots of research on
amphibians.
At last the sun came!!
Every week I am in awe of the amazing children that we have at our school! They are creative, adapt to new situations and articulate themselves really well. A very worthwhile first session this afternoon with the second half of Class 3.
I wish all days could be like today.
Week 3
22nd June 2015
"Aye Aye Captain"
After reading "The Little Pirates", children had the freedom to create their own pirate island, build boats to float and make swords. Lots of creative. imaginative play, a lot of which took part high in the trees with binoculars, maps, eye patches and homemade swords. Children were engrossed and thoroughly enjoyed their surroundings whilst working together to hunt for treasure.
Lots of fun!!!
As it was this groups last session in the woods, we asked them to reflect on the last three weeks and explain what they had/hadn't enjoyed about being outside and the activities they had been involved in.....................
"I loved everything, everyday"
"I have been really happy about everything"
"I loved being high in the trees"
"The best time ever! I just love Forest School"
"I liked being with my friends"
"Exploring"
"Making swords, boats, houses"
"Playing games"
When asked how they would feel about being outside in the snow, ice and cold, they said
"It would be ok, we would just have to wrap up"
It seems the children have really enjoyed their three weeks.Now time to start again with another group.
Week 2
8th June 2015
Today the children made friendship bracelets and listened to the story of 'Scaredy Boo'. Using clay as a
starting point, they explored the woodland and created their own ideas of what Scaredy Boo looked like.
Some of the group enjoyed using the explorer bags and carried out their own bug hunt.
Another great session Class 3.
Well done!
Some fantastic quotes during reflection time and independent play.
"We wanted to do it together"
"It felt good to do that"
"I used the pine cones again from last week as I like them"
"There's a good view up here", child up a tree.
"The snail lives there so he doesn't get wet"
"I'm decorating this tree with ribbons as I'm pretending it's a horse, and I'm dressed up nice for the
horse races"
Our Very First Forest Session!
1st June 2015
Well, the weather wasn't quite what we had hoped it would be, but it didn't dampen our spirits!
An afternoon of playing team games, building houses for the character from 'The King of Tiny Things'
and then den building.
Lots of fun was had by all involved.
Lots of opportunity for discussions and imaginative play.
Here are some of the things our amazing children said;
"My house is called pine cones and bluebells"
"Our house is called in disguise because you can't see it"
"Mine is a 2-D house"
"I enjoyed working as a team"
"I liked everything about this afternoon"
"My house has got a fire around it to keep the wild animals out"
"Fireballs and ice come down and hit you if you try to get in"
"I live in this house with the king and my mum"